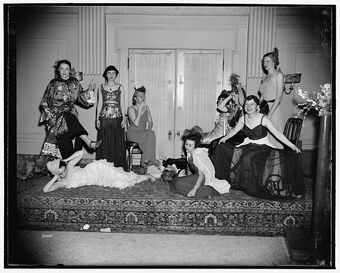 Maundbury Social Club was founded in 1875 by Roselynn Chrisfield , Elizabeth Armitage , and Catherine Taylor . They were married to the most powerful men in Maundbury at the time. The three women had organized knitting circles for the Union troops during the Civil War. After the war, they organized weekly meetings at the Maundbury Episcopalian Church.
The club was first known as the Maundbury Women's Reading Circle. They would gather and discuss the latest books. A rift developed when Roselynn Chrisfield became active in the Woman's Suffrage Movement. Elizabeth and Catherine did not want be involved with the "upstarts". They formed the Maundbury Social Club. While Roselynn keep the Reading Circle.
The Social Club is known for it's volunteer events. The Annual June Bug Dance is the largest fundraising event they host.